Diplomatic relations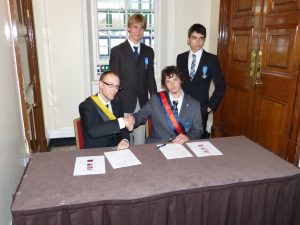 The Grand Duchy of Flandrensis is an established value in the worldwide community of micronations. Since its foundation in 2008 Flandrensis signed more than 180 treaties of friendship and mutual recognition with other micronations, on diplomatic level Flandrensis is one of the most active micronation in this world. We encourage people to start their own micronation and we are always open to advice new micronationalists with the development of their micronation and to enlarge our community of friends.
If you want to be recognized by Flandrensis you need to respect following conditions:
The micronation must be at least 1 year old and not drastically changed their form of governance in the last 6 months.
The micronation must have a website with clear and truthful information (population, goals, territory).
The micronation must exist in real life: countries with a fictional history, population or claims on virtual maps or imaginary worlds on the internet is not micronationalism but geofiction.
Micronations which apply for diplomatic recognition must complete truthfully a fact sheet on the Flandrensian website. This will be the basis for the assessment of their request. The Grand Duke will investigate your application together with his Cabinet. Your micronation will be judged on content, achievements, reputation and diplomatic behaviour in the micronational community.
Treaty of Friendship and Mutual Recognition:
Republic of Aquitaine (U.S.A.)
Principality of Beauluna (Netherlands)
State of Moriel (Puerto Rico)
State of Sandus (U.S.A.)
Aerican Empire (U.S.A.)
Kingdom of Strathclyde (Scotland)
Holy Empire of Réunion (Brasil)
Commonwealth of Uskor (Australia)
Grand Duchy of Westarctica (U.S.A.)
Sovrana Militare Ordine Romano Adrianeo (Italy)
People's Republic of Podjistan (Nothern Ireland)
Kingdom of Uberstadt (U.S.A.)
People's Democratic Autocray of Arborea (New Zeeland)
Republic of Padrhom (France)
Principality of Imvrassia (Greece)
Republic of Alcatraz (Italy)
Republic of Benny Andre Lund (Norway)
The Royal Republic of Ladonia (Sweden)
Empire of Austenasia (England)
Principality of Guerreria (U.S.A.)
The House of Homestaed (Andorra)
Principality Islet Pontinha (Portugal)
Principality of Hélianthis (France)
Empire of Angyalistan (France)
Republic of West Who (USA)
Principality of Aigues-Mortes (France)
Republic of Uzupis (Lithuania)
Kingdom of Ruritania (U.S.A.)
The Virtual State of Drakonberg (Azerbaijan)
Empire of Adammia (England)
Kingdom of Hanover (U.S.A.)
Empire of Karnia-Ruthenia (Brasil)
Cyanocitta Cristata Republic (U.S.A.)
Kingdom of Meme (U.S.A.)
People´s Democratic Republic of Villa Alicia (Brasil)
Republic of Saint-Castin (Canada)
Principality of Surland (France)
Fishtown Newport Territory (Germany)
Democratic Kingdom of Frankland (U.S.A.)
State of Nedland (U.S.A.)
The Nemhav Federation (Ireland)
Union de Geovannia (Mexico)
Republic of Nesti (Italy)
Kingdom of Aurilië (Belgium)
Commonwealth of Boshka (U.S.A.)
Principality of Lorenzburg (Sweden)
The Commonwealth of Dracul (U.S.A.)
Principality of Sabina (Spain)
The Kingdom of Manso (Brasil)
The Tsadom of Phokland (U.S.A.)
The Principality of Béremange (Canada)
Mutual recognition (defunct micronations anno 2019)
Principality of Valumar (Spain)
Cheslovian Federation (England)
Kingdom of Beunos Aires (Argentine)
Estado Serené­simo de La Roca (Spain)
Empire of Leblandia (Poland)
Kingdom of Batavia (Netherlands)
Republica Popular Socialista Huetar de Occidente (Spain)
Kingdom of Castrigia (Netherlands)
Empire of Mexican America (Mexico)
Duchy of Bohemia (U.S.A.)
Grand Duchy of Johnstonia (Australia)
El Pueblo Simariense (Spain)
Republic of Cisalpina (Italy)
Republic of Patetopia (U.S.A.)
Berinese Confederation (Venezuela)
Free Community of Pasargada (Brasil)
Carribean Republic of Samana Cay (Bahamas)
Federated Republics of A1 (Australia)
L'Empire Irosien d'Armorique (France)
Confederation of Mahuset (the Netherlands)
Republic of Promolands (Italy)
Kingdom of Albion (Belgium)
Parliamentary Republic of Dorzhabad (England)
Kingdom of Lacia (Netherlands)
Viking Empire Stormark (England)
Kingdom of Zandrovia (U.S.A.)
Res Publica S.P.Q.R. (Italy)
Republic of Transletania (Hungary)
Empire of Progle (U.S.A.)
Slinky Parliamentary Monarchy (U.S.A.)
Students Isocratic Oligarchy of Yablako (Australia)
Principality of Rukora (England)
Democratic Republic of Vitla (Italy)
Kingdom of Parvus Laetus (Belgium)
Republic of Secundomia (U.S.A.)
Republic of Egtavia (England)
Kingdom of Kelterspruf (Brasil)
Kingdom of Theodia (U.S.A.)
The Federal Republic of Blue Skies (U.S.A.)
State of the People of West Antarctica (Serbia)
Directory of Akull (U.S.A.)
Union of South London Soviet Socialist Republic (England)
Republic of Atlantis (Italy)
Kingdom of Wyvern (the Netherlands)
Grand Duchy of the North Antarctic Peninsular Islands (U.S.A.)
Empire of Monovia (England)
Kingdom of Falghun (England)
Principality of Treisia (Philippines)
Social Republic of Bethania (U.S.A.)
Republic of Allobrogie (France)
Empire of Gordjan (Italy)
Union of Starland (U.S.A.)
Empire of Qootarlaent (Netherlands)
Republic of Ultamiya (U.S.A.)
Kingdom of Broughtopia (England)
Kingdom of Escitrar (U.S.A.)
Empire of Freedomia (U.S.A.)
Free Pristinian Republic (Germany)
Lewisham Democratic Republic (England)
Republic of Caledonia (Scotland)
Territory of Ledicarus (Canada)
Technocratic Federation of Erephesia (England)
Kozuc Khanate (U.S.A.)
The Ohio Empire (U.S.A.)
Republic of Bokonton (England)
The Republic of Fivea (Hungary)
Knoll Island Empire (England)
Republic of Wadonstol (Australia)
Principality of Novum Angliae (U.S.A)
Daikoku Federation (Indonesia)
Kadmurian Empire (Austria)
Kingdom of Finismund (Spain)
Estado de Marie (Spain)
Keep Watch (Canada)
Federated States of Antarctica (U.S.A.)
Principality of Subenia (Serbia)
Antarctica's Elain of Atilnia (Italy)
Kingdom of Strueh (Germany)
Reglando de la Glaciaj Homoj (U.S.A.)
Kingdom of New Westphalia (England)
Schalamzaar Empire (Iran)
Federal Republic of St. Charlie (Italy)
Principality of Campinia (Belgium)
Republic of Loneyard (Ukraine)
Principality of Lednia (Belarus)
Princedom of Eyland (Belarus)
The United Provinces of Mauritia (Brazil)
Kingdom of St. Kilda (Schotland)
Principality of Valendia (French Polynesia)
Federation of Kraveitya-Ratmanovia (U.S.A.)
Kingdom of Newukraine (Ukraine)
Republic of Ivstria (Russia)
Republic of Skuliya (Belarus)
Grifburgh Empire (Russia)
Kingdom of Greencountria (Ukraine)
Norlandian Kingdom (Russia)
Republic of Cunsann (Italy)
Democratic Republic of Sree Gurusia (India)
Socialist Republic of Strovacia (Russia)
Grand Duchy of Lle (U.S.A.)
Kingdom of Danland (Russia)
The Ilmen Federation (Russia)
The World Humanity Commission (India)
Sultanat de Zaria-Shabazz (Central-Africa)
Republic of Eslenda (Russia)
Kingdom of Juclandia (Romania)
Republic of Chico (Peru)
Kingdom of Candar (Austria)
Kingdom of Warkaland (Romania)
Confederation of Leylandiistan and Gurvata (Ireland)
Republic of Hasanistan (Turkey)
Democratic People's Republic of Urbonia (Philippines)
The Reylan Imperial Triumvirate (Wales)
Kingdom of Alteria (New Zealand)
Noble Republic of Lurk (Czech Republic)
Republic of Town Real (U.S.A.)
United Territories of Sky Haven (Hong Kong)
Democratic Environmental Society of Senya (England)
Kingdom of Cattimundo (Italy)
Principality of Lyonesse (U.S.A.)
Royal Kingdom of Eesha (India)
Commonwealth of Sirocco (New Zealand)
Kingdom of Savante (U.S.A.)
Imperial Kingdom of Calsahara (U.S.A.)
Kingdom of Verdoleania (Netherlands)
Kingdom of Vikesland (Canada)
Republic of Polanda (Spain)
The Aarianian Union of North America (U.S.A.)
The Confederation of Caciolle (Italy)
Ahaänian Empire (Ukraine)
The Empire of Iustus (Canada)
Empire of Anasia (Northern Ireland)
Single recognition by Flandrensis
The Republic of Molossia (U.S.A.)
Republic of Saugeais (France)
Empire of Atlantium (Australia)
Withdrawal of recognition by Flandrensis
Peoples Democratic Republic of Erusia (England) – undiplomatic and aggressive behavior
United Micronations Multi-Oceanic Archipelago (U.S.A.) – religious intolerance
Principality of Durstonia (Canada) – homophobia and religious intolerance
Princedom of Aysellant (Russia) – undiplomatic behavior
Federal Republic of Lostisland (Russia) – homophobia, undiplomatic behavior
Empire of Pavlov (the Netherlands) – homophobia, undiplomatic behavior