The flag
The flag of the Grand Duchy of Flandrensis is a tricolour consisting of the three equal horizontal red, white, and black bands. The flag bears the national coat of arms, the Flandrensisian lions centred in the white band.
The flag of Flandrensis is inspired by the first Belgian flag of 1830. The original Belgian flag's yellow band has been replaced by white which symbolises a new beginning.
The coat of arms
The Flandrensisian lions are inspired on the Flemish lion, the coat of arms of the counts of Flanders. It traditionally symbolises bravery, valour, strength, and royalty, since traditionally, it is regarded as the king of beasts. According to some historians the first Flemish lion was passant gardant (walking) and not rampant (standing), therefore the founder used two lions passant gardant, the second lion symbolises again the resurrection of the medieval Flandrensis.
The national currency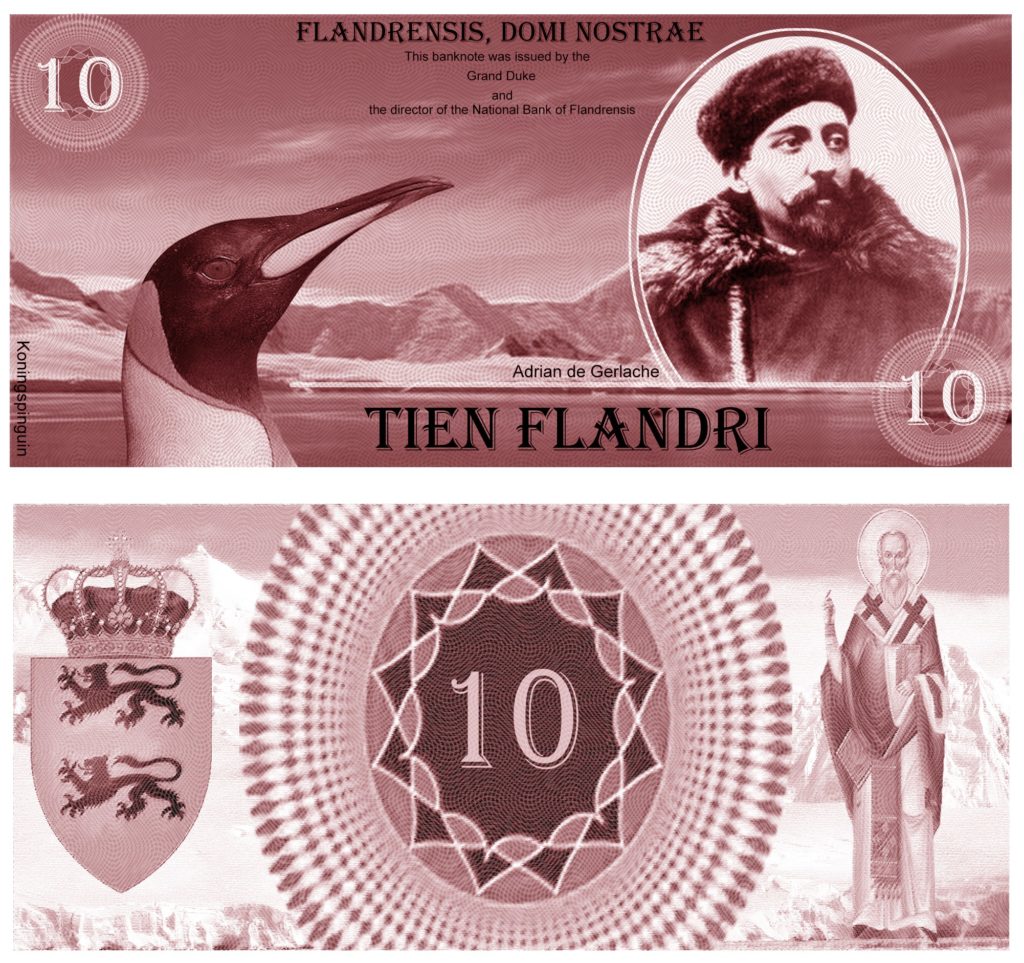 The Flandri is the currency of the Grand Duchy of Flandrensisand are designed by Baron F.R. Verkerk de Beauville. At this moment only the coin of 1 FL is available in the shop.
Symbol on the 10 Flandri: Adrien Victor Joseph de Gerlache de Gomery (2 August 1866 – 4 December 1934) was an officer in the Belgian Royal Navy who led the Belgian Antarctic Expedition of 1897 to 1899.
Symbol on the 20 Flandri: The Belgica is the name of two Belgian research vessels, with a name derived from the Latin Gallia Belgica. The ship and her crew became the first to spend winter on the Antarctic when she became stuck in the ice on 28 February 1898. Only 13 months later, after clearing a canal, did the crew manage to free the ship and return to Antwerp, Belgium on 5 November 1899. The ship was later bought by the Duc d'Orléans who sailed with Adrien de Gerlache on several other expeditions. The Belgica remained in service until 1913.
Symbol on the 50 Flandri: Roald Engelbregt Gravning Amundsen (16 July 1872 – 18 June 1928) was a Norwegian explorer of polar regions. He led the first Antarctic expedition to reach the South Pole between 1910 and 1912. He was also the first person to reach both the North and South Poles. He is known as the first to traverse the Northwest Passage. He disappeared in June 1928 while taking part in a rescue mission. Amundsen with Douglas Mawson, Robert Falcon Scott, and Ernest Shackleton, was a key expedition leader during the Heroic Age of Antarctic Exploration.