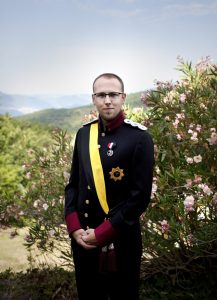 Niels Vermeersch (aka Niels de Saint Gilliens, Niels van Flandrensis) is the founder and the first head of state of the Grand Duchy of Flandrensis.
Micronational career
As Grand Duke, Niels is the face of Flandrensis and the official representative of a worldwide community. He's the head of the Government and has several constitutional powers like the appointment of Ministers or ambassadors, signing treaties, etc.
Niels is highly involved in the international community of micronations and he's a frequent guest at meetings and international conferences of micronations. In 2009 he was awarded the very first peace award granted by the micronational community. In 2014 the French newspaper "Le Journal du Dimanche" called him the "Woodrow Wilson of micronationalism". Transforming Flandrensis from a temporary hobby into a serious project he has been interviewed and mentioned in several international media (regional and national newspapers, television network channels, radio, books, scientific / cultural magazine, etc.) about Flandrensis or micronationalism in general.
Why the title of Grand Duke?
Niels holds the title of Grand Duke of Flandrensis but he calls himself "the man behind the project Flandrensis" and never uses the title outside Flandrensis. He started with his micronation in 2008 as a temporary hobby during the holidays without any long term intention. He took the medieval ages as a source of inspiration for his micronation and therefore he chose for an Grand Duchy instead of an republic. In real life Niels is not a monarchist, but people know him today as the "Grand Duke".
Personal life
Outside Flandrensis Niels works for a West-Flemish municipality and in his free time he's a huge fan of literature and history. In 2012 he married with the Flandrensian Baroness Delphine de Saint Gilliens and the royal couple are blessed with 2 children. Since 2013 their residence is in the Flandrensian Embassy in the Kingdom of Belgium (Sint-Juliaan, West-Flanders).